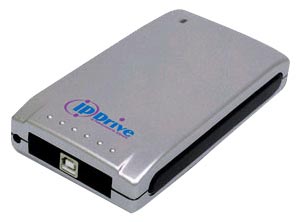 IP-Drive 2.5" Netzwerk + externe USB 2.0 Festplatte
10/100 Ethernet; NAS; DHCP Unterstützung!

Das IP-Drive ist ein FTP Server und unterstützt SAMBA um es Cross-Plattform fähig zu machen zwischen Windows, Mac OS und Linux. Als SAMBA-Server, können Nutzer die Festplatte als lokale Festplatte nutzen und so einfach untereinander Daten austauschen.

Datenblatt Download (PDF 2,5 MB, englisch)



Merkmale
Integrierte 10/100 Ethernet Anschluss für Filesharing.
Network Attached Storage (NAS) provides extra storage space on your network for backup, storage expansion, file sharing, and data management.
High Speed USB 2.0 Anschluss to serve as an external HDD.
FTP (File Transfer Protocol) file server support.
Transparent to users when they connect it to your PC via network cable.
Easy to manage users by a Web page style Administration UI.
Light-weighted and compact design with a 2.5" / 3.5" form factor.
Built-in SAMBA for cross-platform software among various platforms.
Low-Cost NAS.
Support a low-cost, stand-alone, shareable hard drive for home user, home office, and small office.
Einfache Installation.
Es werden keine Treiber benötigt.
Shares your network bandwidth with all your home or office users to provide Internet access to all your home or office computers
Hot plug capable, hot swappable, Plug-n-Play
DHCP Client und Static IP addressing supported.

Spezifikationen:
Transfer Rate: 10/100 Ethernet Router
PC connection: USB 2.0
Storage Media: HDD size: 2.5" / 3.5"
HDD capacity: unlimited
LED Status: File transfer status, USB access, power indication
Operating System Support: Windows®, 98SE, 2000, ME, XP
Power Consumption: 12V 3.0A
Power Connection: AC adapter (included)
Housing: Plastic
USB Cable Type: USB 2.0 high speed cable
USB Cable Length: 6 feet
Network Cable Connections: 1*RJ-45 Network Port
Operating Temperature: 0°C~70°C
Storage Temperature: -20°C~85°C
Humidity: 90% RH, without condensation.
Weight: 2.5": 153g (w/o HDD, cable, adapter)3.5": 250g (w/o HDD, cable, adapter)
Dimension (L*W*H): 2.5": 150*84*29 mm 3.5": 203 x 128 x 45 mm